Be a Part of Something Extraordinary!
Audition for the 2024 Phantom Regiment!
Step into the Spotlight
Imagine standing under these stadium lights, feeling the adrenaline rush through your veins as the crowd holds its breath, waiting for your moment to shine. The 2024 Phantom Regiment is your chance to take center stage and let your talents soar. Whether you're a percussionist, brass player, color guard artist, or have a knack for bringing music to life, we want YOU to be a part of our legacy.



---
Elevate Your Performance Experience
If you've ever felt that your passion for music and performance was meant for something bigger, then this is your chance to take your skills to the next level. Joining the Phantom Regiment isn't just about being part of a drum corps; it's about embracing a journey that will transform you into a seasoned performer, a confident leader, and a cherished member of a tight-knit phamily.




---
Leave Your Mark on Drum Corps History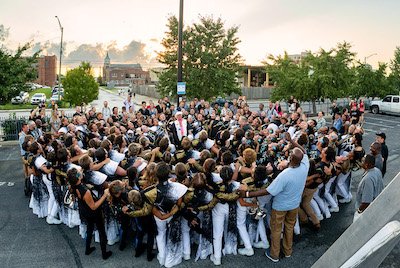 The Phantom Regiment has a storied history of pushing boundaries, setting trends, and inspiring generations. By auditioning for the 2024 season, you're not just stepping onto the field – you're becoming a part of an iconic legacy. Your dedication and passion will contribute to the rich tapestry of drum corps history, and your story will forever be woven into the fabric of our legacy.




Take Your First Step
Countless audition stories begin with, "I didn't think I was good enough." The truth is that every Phantom Regiment member began their journey here. Whether you are a seasoned drum corps vet or simply giving it a shot, we promise you a welcoming environment, outstanding instruction, and a phantastic learning experience.
SHARE THIS STORY
---