The members, instructors, support staff, and volunteers for the 2022 Phantom Regiment are hard at work bringing No Walk Too Far to life! And they need to eat! We are thrilled to bring back one of our most popular fundraising campaigns: Fueled by Phans!
Our nutrition team – led by Phantom Regiment Hall of Fame member Becky Nelson – takes great care to ensure the members and staff receive fresh, nutritious meals that meet every dietary restriction, choice, and need for over 250 people each and every day of tour. Over the course of four daily meals, our members and staff consume huge amounts of fresh fruits and vegetables, lean meats, complex carbohydrates, milk, eggs, and cheese. In addition, Phantom Regiment provides comfort foods like peanut butter & jelly, cereal, and even desserts after dinner.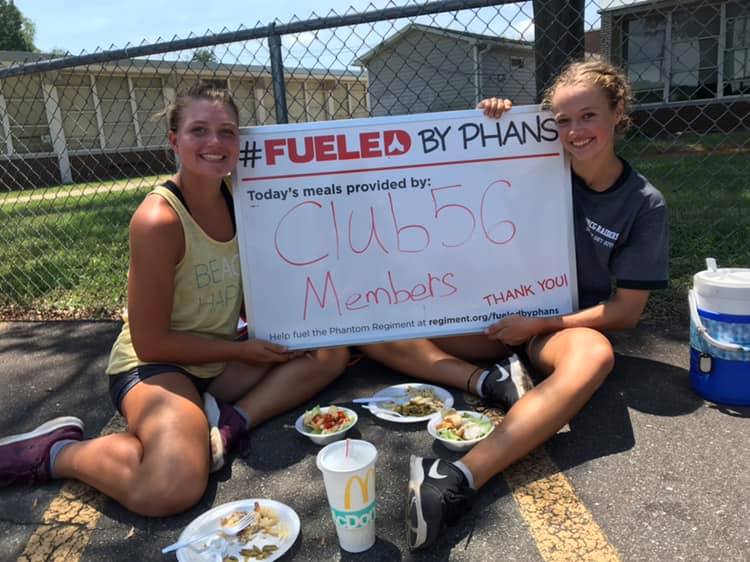 Keeping the corps fed throughout an entire summer is not cheap.
It costs over $1,500 per day to feed The Phantom Regiment!
Fueled by Phans is your chance to help offset the costs of feeding our fleet by making a tax-deductible contribution towards a snack, a meal, or even an entire day's worth of food!
---
Sponsor a Meal
Choose your day & meal(s) and we'll be sure to share your sponsorship with the members & on social media!
Meal sponsorships start at just $200 for snack up to $1500 for a full day of meals on a Premium sponsorship day.
Create a Team
Get your entire "phamily" in on the fun by creating your own Fueled by Phans team!
Easily create your own fundraising page, then collect smaller donations from family, friends, or fellow alumni to sponsor as a group.
Make a Donation
$25 helps purchase cereal for one day of summer tour, or $100 buys a days' worth of Gatorade.
Any amount helps fuel the members of Phantom Regiment!
---
All meal donors will have their sponsorship shared via our social media pages so that members, staff, and volunteers have the opportunity to recognize and thank our supporters.
Can't sponsor a meal or full day of meals? No problem! Any amount helps offset the costs of fueling the Phantom Regiment this summer.
To join us in Fueling Phantom Regiment's 2022 season, simply visit https://regiment.org/fueledbyphans/ and officially become a supporter! Remember, donations are tax-deductible!