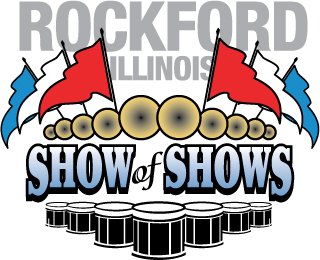 However you know the show, whether it be: The Rockford Show, Homecoming, Boylan, Show of Shows, The Home Show, it's still our annual alumni homecoming!
The Phantom Regiment has performed at Boylan Stadium reaching as far back as 1969. Originally those performances included half-time shows for the Rockford Rams semi-pro football team mixed together with a few competitions run by Rockford's 4th of July committee. The first Show of Shows operated by the Phantom Regiment was held at Boylan in 1976.
The show has grown over the years to be more than just a drum corps competition. Year after year, it's the one chance our alumni, staff, and volunteers have to reconnect with their past and stand again on the same ground that has hosted the corps nearly every year for over 40 years.
Boylan Stadium in Rockford, Illinois will once again play host to the Phantom Regiment's 44th Annual Show of Shows on Saturday, June 29, 2019, part of an exciting weekend of interactive alumni happenings. Scheduled events include the annual kickoff and opportunities for interaction between corps members and alumni, former staff, volunteers and cadet corps alumni. PLUS, former marching members are invited to join the Regiment on the field to perform Elsa's Procession to the Cathedral during the encore at the end of the show, as well as a special medley from 1989 From The New World…Into A New Age show!
Friday, June 28, 2019 – Show of Shows Kickoff Party at Lino's, 5611 East State St, Rockford, IL 61108
For those that come to town the night before the show and for those in the area, this is a great time to reunite with old friends, and make new ones as well! This party is open to the public. 
This event is held the night before the Show of Shows each year. A ticket is required. The party includes:
6:00p – Happy Hour (Cash Bar)
7:00p – Dinner that includes:

Lino's Special Salad
Bread & butter
Variety of Pasta (Mostaccioli-Ravioli-Tortellini)
Meatballs
Soft Drink or Coffee
Spumoni

Reunite with old friends
Meet new friends
Silent auction
Pick up your "Will Call" show tickets; alumni name badges; special commemorative alumni shirts (if purchased)
Party is open to the public and families are welcome
Cost is $25 per person for PRAA members (and their guests) or $30 for non-PRAA members purchased in advance. Tickets purchased at the door are $30 for both PRAA and non-PRAA members. Kickoff Party ticket is NOT included in performer package.
Note: tickets will not be sent out in advance as your order will be placed on a list for when you check in. Just in case, print out your receipt and bring with you. Party is open to the public and families are welcome. Buy your tickets through the "Register Now" buttons.
Saturday, June 29, 2019 – Boylan Catholic High School – 4000 St. Francis Dr.  Rockford, IL
1:00 p
2:00 p
Lunch with the Regiment (ticket required and included for alumni performers)
2:00 p
5:00 p
Mandatory alumni rehearsal
5:00 p
5:30 p
 PRAA & PR combined rehearsal
5:30 p
7:00 p
Dinner on own (or VIP Barbecue Dinner, optional, ticket required)
7:30 p
Show of Shows starts
Encore
Special performance by Phantom Regiment Alumni and the Regiment of 1989 New World medley, and Elsa's Procession to the Cathedral
PRAA Hospitality Tent re-opens after performances conclude. The schedule above is subject to change – the final schedule will be emailed to participants.
Alumni Homecoming Special Rates for:
Kickoff Party
Lunch with Phantom Regiment
Ticket to Show of Shows (Gold or Silver alumni sections)
Alumni Name Badge & Lanyard (register by July 1)
Alumni Performance (register by June 24)
Special Commemorative Alumni Shirt (this year's alumni shirt will be the current tour shirt that contains this year's show logo on the front, with the Regiment tour schedule on the back. PLUS, the alumni version, only available here through June 24, will have "ALUMNI" on the left sleeve. This will also be the performers uniform for this year).
Special Alumni VIP Upgrade Package (includes Barbecue Dinner before show)
Tickets to the above must be purchased by Phantom Regiment Alumni Association (PRAA) Members (including past staff or volunteer) and you can purchase additional tickets for your guests. You can renew or join the PRAA at the same time to make it easy. Every alumnus who RSVP's in advance will have a name badge showing which years they marched.
ALL PRAA members who will be attending the Show of Shows are encouraged to RSVP via the Homecoming page link below (including those who may get their show ticket via booster club or previously purchased tickets, etc). We will make name badges for all PRAA members that RSVP in advance.
This Homecoming page can also be used to buy: specially priced tickets to the Show of Shows, BBQ dinner passes & tickets to the lunch with the corps.
Need a place to stay? Special rates at the Hampton Inn are available.
We are proud to partner with the Hampton Inn Rockford as the official hotel for the Show of Shows! We have secured a block of rooms at a special rate of $129/night.
The hotel is 2 miles down the street from Lino's where the Show of Show's Kickoff Party takes place, and a short 15 minute drive to Boylan Catholic High School.
Besides the great location, the hotel serves a free hot breakfast as well.
Whether you're staying for one or two nights, help the Phantom Regiment by supporting our hotel partner.
Please note: there's a soccer tournament happening this same weekend, so hotel rooms will be scarce, so we suggest booking early. Also, reservations must be made no later than 05/24/2019 to receive the group discount.
Reserve your room here or call 815-229-0404 and let them know you're with the Phantom Regiment block.
Club56 (formerly known as the Booster Club) Members
If you're an annual member of Club56 at a level that comes with a few of the best seats in the house, you'll still get those tickets if you sign up again for the Club56 at www.regiment.org/club56. But to receive all the items for alumni homecoming, or just to have your name badge created (PRAA members only), remember to sign up at via the "Register Now" buttons here. (If you have a question about your renewal date – contact us.)
We look forward to welcoming Phantom Regiment Alumni from all over the country and the world to celebrate 63 years of tradition, success and never-ending friendships!
SUTA!
Annual Alumni Homecoming