Chers Phans,
Dear Phans,
Bonjour and good morning! The Regiment is on its sixth day of tour, and we are in Stanford, California!
On Wednesday, we rehearsed in Salt Lake City, Utah, at Bingham High School. We were very thankful for this rehearsal facility; there was plenty of field space, an amazing turf stadium, great air conditioning, and a beautiful view!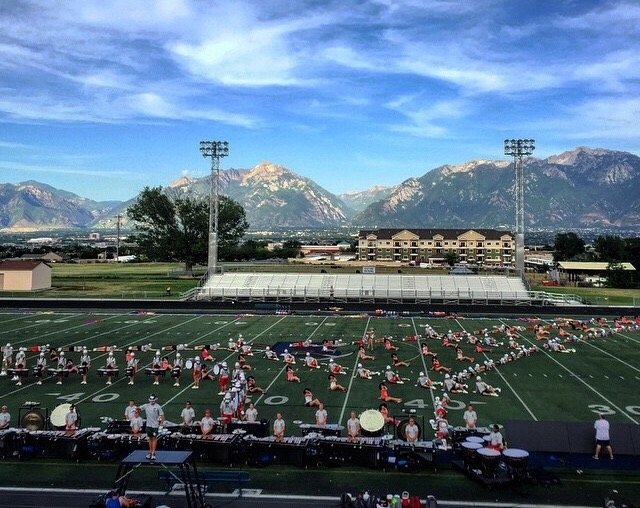 The color guard spent the majority of the day in sectionals, focusing on repping larger chunks of the show to build stamina. The night before, we had a journaling session on the bus, at the end of which we all shared our goals and thoughts on the microphone. As a result, we had an amazing day, and I hope that will carry forward into the rest of the season.
That day, we had a longer afternoon block, with snack in the middle, during which the color guard and tubas were treated to some Gatorade from Victor, an alum who lives in the area. Merci beaucoup, Victor!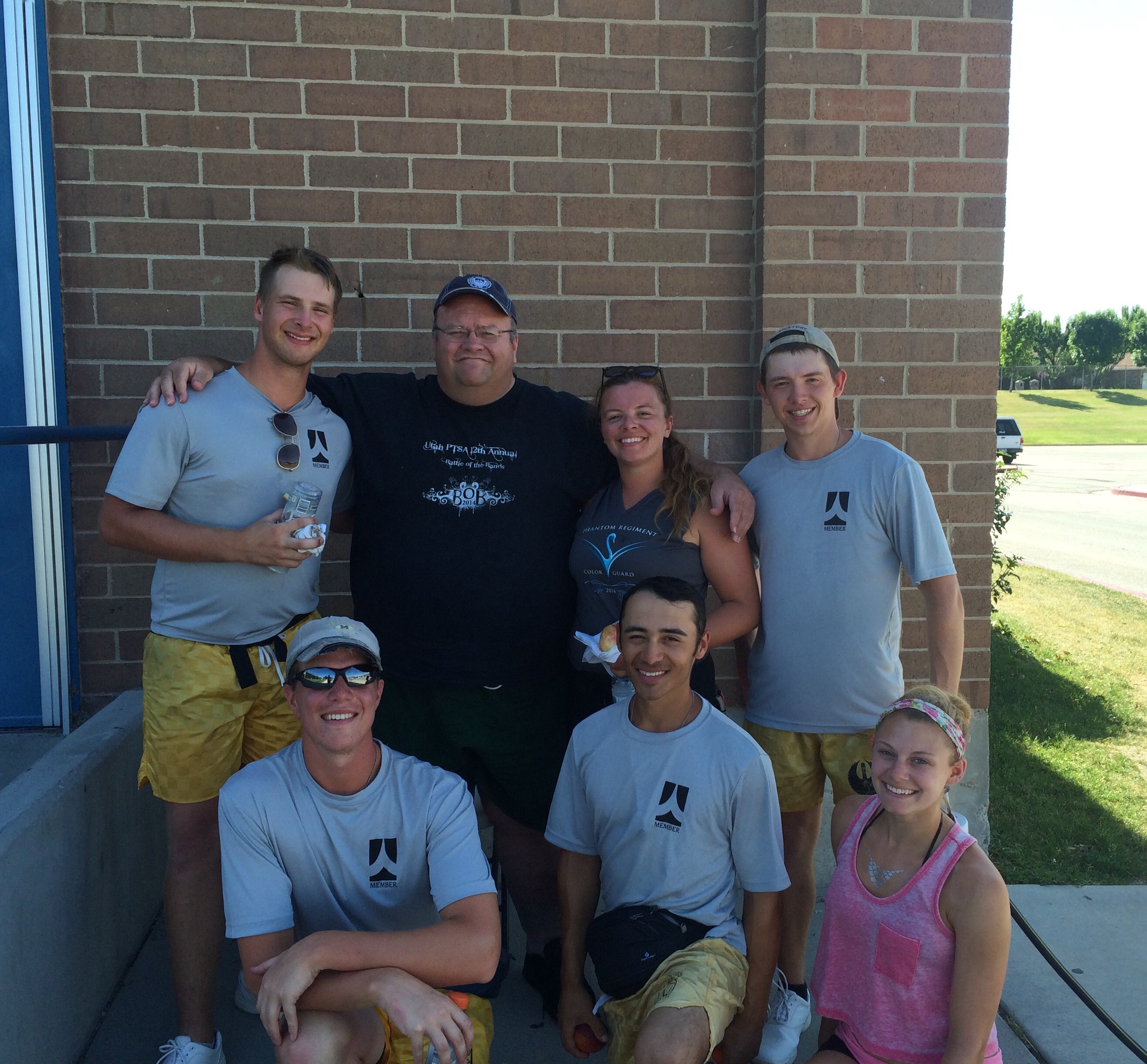 On Thursday the corps rehearsed at Damonte Ranch High School in Reno, Nevada, where we put on a clinic with their marching band. It was very fun to meet all of the students and interact with them all day. (Go mustangs!) I have a theory that all marching band folks are silly, regardless of age or location.
That evening, we had our ensemble block in full uniform. We focused on repetitions of large chunks of the show to ensure that the corps was focusing on holistic, energetic, and sustained performance. The Regiment was battling 40 mph winds all day, which was especially tough for the color guard, but we stayed positive and continued to fight all day long until the last count of the run through.
Yesterday we had our first show in Clovis, California! We stayed at Clovis West High School, and had a very short rehearsal day before getting ready for the show. It was the hottest day of the summer, with a high of about 104 degrees in the afternoon, but all I could think about was how there was no wind to fight against! It felt good after the gusty day we had in Reno.
The Phantomettes had a very energetic warm up, and as a result, had an amazing show. This is my fifth season of DCI, and I can honestly say that this was my best first performance. It was so focused, and calm, and fun! After the show, it was clear that the entire drum corps had an amazing run as well. There is something so special about knowing that everyone brought the same energy and attention, and I can't help but dream about what that means for the rest of the season.
Today we are rehearsing at Independence High School in San Jose, California before traveling to perform at the Stanford Stadium. If you are in the area, you are more than welcome to attend our ensemble block, which begins at 2:30.
BREAKFAST: Breakfast Pizza
LUNCH: Hot Dogs
DINNER: Tilapia and Baked Potatoes
QUOTE OF THE DAY(S):
"The wild horses are having a kiki!" "I named that one Bianca, I'm performing for her!"
PHUN PHRENCH PHRASES:
Faites attention au vent!
Be careful in the wind!
Je dois mettre de la crème solaire plus souvent.
I need to apply sunscreen more often.
La Californie est si belle!
California is so beautiful!
Thanks for reading,
Genevieve Gahagan