Red & Black Fall Classic
Marching Band Festival
NIU Huskie Stadium
1:00 pm Start (pending number of entries)
Saturday, September 26, 2020
Band Registration Entry Form
The Red & Black Fall Classic at Northern Illinois University's Huskie Stadium is on Saturday, September 26, 2020. This will be the 18th year the Phantom Regiment has produced a high school marching band show, and this will the 11th event in partnership with the NIU Huskie Marching Band. 
The Red & Black Fall Classic is at one of the very best venues in the entire state of Illinois, with other features such as:  
BOA Adjudication System
Nationally Recognized Adjudicators
Professionally recorded DVD from top of Huskie Stadium
Instant Feedback Option Available
Pre-Show Clinic Option Available
Performance by NIU Huskie Marching Band
Huskie Stadium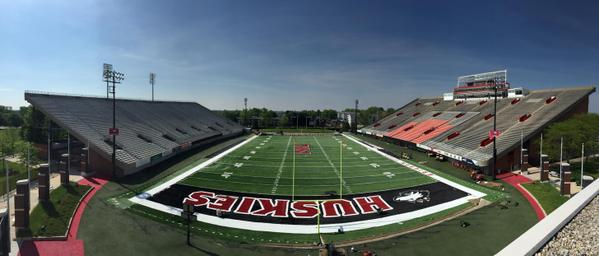 This is the perfect event to have your band showcased in one of the best venues in the Midwest. Being able to perform under the lights on state of the art turf will be beneficial for your students and your staff. The turf (see picture above) was newly installed in 2015. Students will enjoy performing on the big stage, while your staff will not only have feedback from some of the best adjudicators in the country but will be able to be watch and listen to the product on the field in the best available venue.
Huskie Marching Band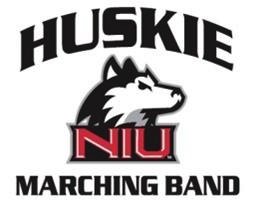 An added bonus is a special performance by the Northern Illinois University Huskie Marching Band under the direction of Dr. Thomas Bough. "The Huskie Marching Band," says Dr. Bough, "is always eager to perform, be it for the enthusiastic fans in Huskie Stadium or for the hard-working and talented high school band members that perform and compete every weekend during the fall around the state of Illinois."
Fans & Parents
All seats will be general admission, and the gates will open one hour before the first performance. For ticket and schedule information – visit the show page. To order a DVD from this event, visit: http://www.box5store.com/red-black-fall-classic/
Band Directors
Performance time slots in respective classes are based on date entry form is received. If you need a special time slot to accommodate other activities that day, please let us know so that we may try to accommodate your needs. ALSO, the first 5 bands to register and pay will receive 2 FREE VIP passes and 10 FREE general admission tickets to Regiment's Show of Shows in Rockford. (Bands must register & pay and request tickets in order to qualify by May 15 of the current season, after which, seats will then be released to the general public).
Adjudication
Adjudicators and clinicians will be from across the country including current & past BOA judges and Regiment design staff members. We will be using the BOA adjudication system. The different competitive classes are based on band size (number of musicians) rather than school enrollment. Bands can also choose to enter in "Exhibition" (you will still receive adjudicator commentary but will not be scored).
Options
You have the following options available to you and your band:
50-minute clinic inside the stadium with one of the clinicians. Clinic start times will depend on the number of bands entered in the show (previous years clinics were 9a – 2p)
15-25 minute instant feedback session immediately following your performance (outside the stadium)
Registration
The base entry fee is $300.00. We do accept school purchase orders, or you can use Visa, MasterCard and pay online. If you prefer to mail a check, you can mail it in with the registration form. Please note: registration payment must be paid in advance in order to receive the free tickets to Show of Shows. You can print out your registration form after you have submitted the online form for receipt purposes, or to mail in with your check.
If you have any questions, feel free to contact us at 815-261-1956 or bands@regiment.org. We look forward to seeing you!
REGISTER YOUR BAND BELOW!
Red & Black Fall Classic